Are you thinking about a commercial redesign or are you and your team moving into a new space?  Not sure where to start or what that should look like?  There is a lot to consider when you are trying to conceptualize a space that will fit your team's and client's needs. We are here to help you with these tips for starting a commercial design project.  Whether you would like some pointers on how to start or would like to have us guide you through the process – we are happy to help.

Where to start?
Determine the scope of work.

  Building a new space?  Remodeling an existing space?  Have a budget in place.  Set up your guidelines and expectations for the project.  
Inspiration. Are there certain styles you like?  Keep in mind how you want your brand to be showcased in this space.  Mood boards can be helpful.  Collect images to give a feeling of what you want and present it to the designer that you are working with.  Be clear on your design vision.
Be realistic about timeframes. 

Leave room for unforeseen issues like weather, shipping issues, and if any holidays land within your timeframe.  Are you or someone on your team available to oversee the project during this time?
Floor plan. 

Take measurements of your space.  Indicate where your lighting and outlets are currently. Also, keep in mind what your needs are as far as conference rooms, reception areas, and break rooms.

Professional guidance. 

The smartest way to get the most out of your investment is to bring in a professional interior designer. The experience that a professional designer can offer pretty much pays for itself.  They can often help you to avoid costly mistakes.  Our

team

at Trade Mark Interiors can help in many ways.  From the sourcing and selection of the materials.  From handling setbacks all the way to color selection and throw pillows.
The design process is not solely about creating an aesthetically pleasing environment when it comes to a commercial space.  It is also about designing a space that you and your team feel comfortable in.  You want this space to provide functionality and encourage creativity and productivity.
Current Commercial Design Trends
Biophilia. 

A trend that displays elements of nature in an indoor space.  That can be plants and/or water features.  This trend offers health and productivity benefits.
Sustainable design.

An endeavor to use renewable resources whenever possible.  This can also factor into your furniture selection.
Functionality. 

Form and function are the perfect pair.  Easy to clean spaces and multi-use furniture.  A spatial feel and the perfect lighting create an ambiance that people enjoy being in.
Experiential. 

Build on the brand experience and make connections.  Cohesive designs encourage that experience. 
Curves. 

Incorporating more curved shapes seems to soften the dynamic a bit.  Also, arches can provide a more open and inviting feel.
Colors

. This depends on your business and brand.  If it is a medical office, you may want more neutral tones with calming blues and greens.  If you manufacture kids' toys, then you may want more bold colors.
Commercial design can evoke a company's values and portray an image.  Also, today's consumers long for that emotional connection with a product or service.  They will invest their time and money in businesses that inspire.  Being thoughtful of your customers in your design choices does make a difference.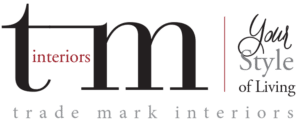 These are all important tips for starting a commercial design project. Here at Trade Mark Interiors, we will go through all of those steps with you to get an idea of your style and what you're looking to do with the space.