Choosing the perfect color scheme for your bedroom or primary suite can be an exciting and equally overwhelming task. While our bedrooms are where we often spend most of our time sleeping, it's a place we retreat to, to feel a serene sense of calm and relaxation.

Having a color scheme that reflects those feelings of serenity is important and a vital piece of how your design will ultimately be pieced together. The paint is the anchor of the room and will immediately set the tone as to how one will feel when they enter.

A Neutral Oasis

A neutral color palette is a timeless and elegant selection for any space but provides an extra sense of serenity within a primary bedroom. The clean lines, soothing layers of beiges/browns, and the "pop" of greenery make for a spa/hotel-like experience every time you enter your space.

Coastal Grandmother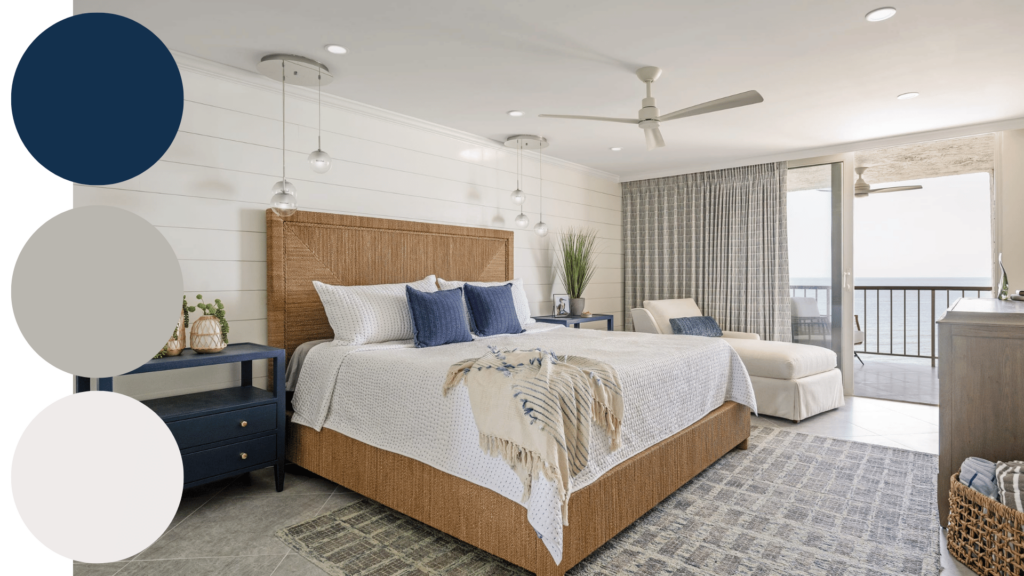 Though it's called "Coastal Grandmother" you neither have to live on the coast OR be of a "grandmother" age to enjoy this stunning color palette and design.

Inspired by luxury and the great "little things" in life, a coastal grandmother palette is light, airy, and relaxing. A combination of crisp and clean paired with a little bit of cozy.
Blue and Yellow Retreat

Blue and yellow are the perfect pair for any space within your home design, but placing these fun pops of color together within a space can bring a bit of fun without overwhelming your senses.

With the bright and cheeriness of yellow paired with the calmness of the blues, the two ebb and flow together so marvelously. It's the perfect mix of sunshine and blue skies for your retreat.
Timeless Traditional

You can never go wrong with a traditional design style. These timeless elements such a 4-poster antique bed, muted linens, and pops of color and pattern provide a serene space like no other.
Almost as if time is standing still in your space, it's a place you can come after the hustle and bustle of a busy day to just relax and unwind.
When designing the spaces above, Trade Mark Interiors used our signature practices and worked intimately with our clients to truly understand what their primary/master bedrooms needed. We worked with them diligently from Plans to Pillows® to provide to them and designed spaces specifically tailored to their style of living.
In need of a master bedroom renovation or design style for your new construction home? We are here to help! Schedule a discovery call with our designers today!