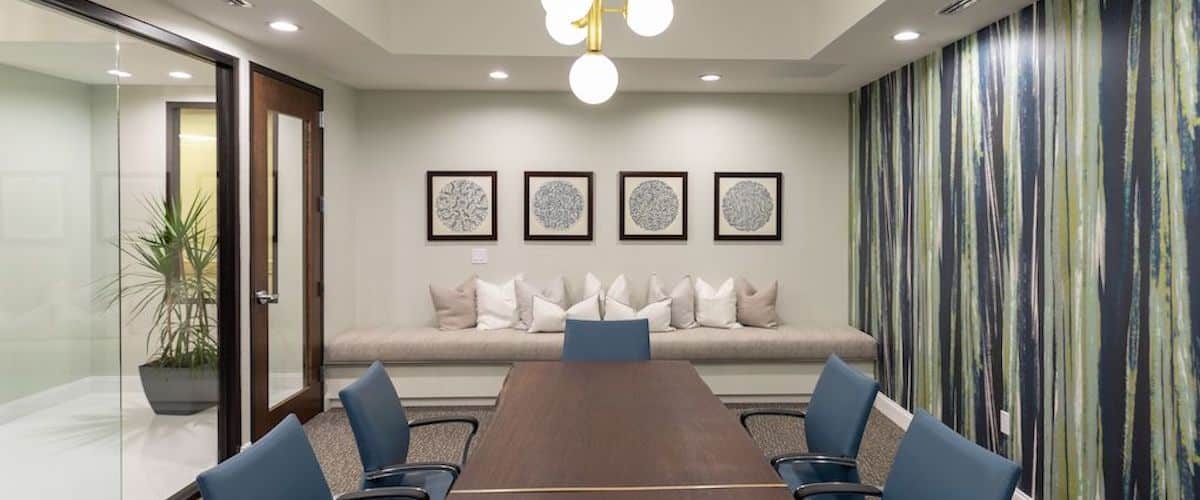 Commercial Full Service Design Package
What we do best! Full service interior design from start to finish creating brand relevant and beautiful spaces. We work on every detail of your project from initial planning to art hanging.
Package Details
Gather & Plan
Letter of Agreement is signed
Client to complete client questionnaire for workplace programming.
60-90 minute meeting with all decision makers to discuss the design goals in depth.
A full set of the preliminary plans in AutoCad to be forwarded to TMI for review. If plans are not yet started, we will work with you to develop the programming for the workplace to be later shared with the architect/builder.
A design style concept will be developed for the project and presented to you for approval, before diving into the complete design. Expect to receive this 1-2 weeks after TMI receives all items above. This will include concepts – to include finish ideas, overall "general" looks, color palette, and other images to help define the design direction of your new commercial space. (1-2 revisions included – more may be purchased at hourly rate)
Design
The first phase will be space plan review and planning to achieve the overall best use of space for your programming needs.
A complete design plan will be developed for the project and presented to you for approval, including color scheme, furniture placement drawings, finish samples, detailed lighting plan and specifications of all finishes required to complete the project. This process can take 4-6 weeks depending on size and scope of project.
Revisions will be made based on client feedback until the final design is approved and ready for production. This is the stage that delays the project the most so it's important to communicate effectively with your designer. (up to 3 revisions included – more may be purchased at hourly rate)
Pricing & Proposals will be developed for approval and within specified budget for any fixed materials supplied by TMI.
Complete construction documentation of all finishes/materials to be used will be completed – including detail drawings – and supplied to the contractor. This will take approximately 2-3 weeks from the time the selections are finalized.
Furniture selection and specifications will be prepared and presented for the entire space. This is all inclusive and will follow the budget specified. (up to 3 revisions included – more may be purchased at hourly rate)
Pricing and proposals will be submitted for approval and ordering.
Project Management
The project observation phase takes place during the construction for your project or installation of finishes and furnishings. During this phase, TMI will make visits that we deem necessary, to the project site to assure that appropriate and necessary preparation is done to assure successful application/placement of finishes. TMI will do our best to work with construction crews on the project, as well as the various workrooms and installation firms that will be instrumental in turning your project into reality. A large part of construction is problem solving during the process. TMI will be available to work with your team to resolve all unforeseen issues!
TMI will handle purchasing and expediting of all finishes (if applicable) and furnishings necessary to complete this project. Proposals will be issued for your approval prior to ordering any finish materials or furnishings. Upon approval by client and receipt of required payments, purchase orders will be issued to the appropriate manufacturers.
TMI will handle all purchase management related to your project and will provide bi-monthly tracking reports to you so you always know the status of your items.
Delivery & Installation
Accessory planning and shopping.
Scheduling of all materials and furnishings for the completion of the project.All furnishings will be shipped to and stored at a local facility until they can be inspected prior to delivery to the job site for installation.
TMI designer on site during delivery & installation
Styling of accents and accessories
Reveal day and client walk through
Media Day
Photos and/or videos of the newly designed rooms on mutually agreed upon days.