Are you thinking of updating your bathroom?  We polled our followers on Instagram and asked whether they would like to redesign their kitchen or bathroom.  It was close, but the bathroom won!  Here are some bathroom remodeling tips to help you through that process.
Bathroom Remodeling Tips
Start with these key things in mind:  
Have a plan and stick to it.  Create a checklist of all the things you would like to see updated in the space.

If you are seeking the help of professionals – have your budget ready and use only licensed professionals.  

If you are going the DIY route, be honest with yourself.  Make sure you feel confident and comfortable taking on this challenge yourself.  Otherwise, it can end up costing you more if you get into the project and then need a professional to step in.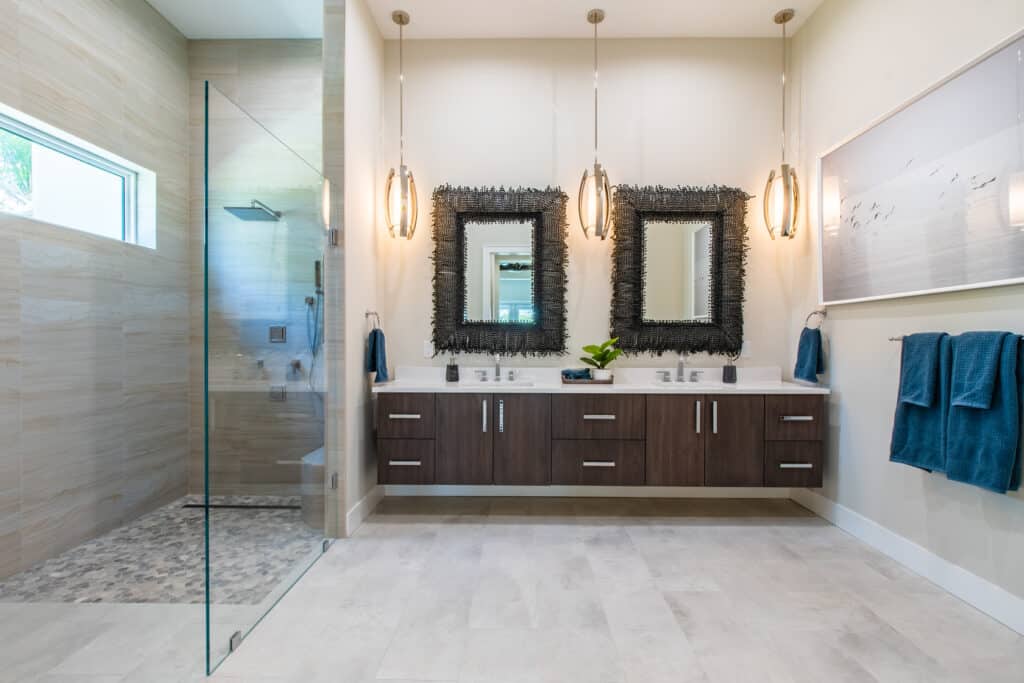 Bathroom updating tips:
Try to avoid making the toilet the first thing you see when you enter your bathroom.

Frame out your mirror for a chic look.  Mirrors can also enhance your lighting.

Update your toilet.  If you are replacing it, make sure you go green and select one that conserves water.  

Let there be light!  Add light sconces at eye level next to your mirror.  Allow some natural light in, wherever possible.  There are some innovative skylight designs out there that may be worth looking into.

Don't forget about ventilation to draw out the moisture in your bathroom.  Check that the CFM for your vent fan meets the needs for your square footage.

For your flooring, pick something hardy.  Some favorites are ceramic and porcelain tile. If you like the look of wood in your bathroom you can go with luxury vinyl planks – they can withstand the moisture.   

Splurge on your countertop.  Your vanity is oftentimes the focal point, so get something you really like.

Switch out your hardware, it can be one of the easiest ways to make a bathroom look like new.
Money-saving tips:
Keep the plumbing where it is.

If you don't need to replace your toilet – updating the seat and the lid can make a big difference.

Hit the salvage yard, flea markets, resellers, and auctions. It is a fun way to make something your own.  You can also look on Craigslist and eBay for leftovers – they sometimes have some great finds.

Want a one-of-a-kind piece?  Take a vintage dresser and transform it into a vanity. Simply make the cuts to hide your plumbing and seal your drawers if you want them to stay in place.  You can set your sink in it or on it.

You can save some money by using bead-board instead of tile and use oil-based paint to protect it.  If you want tile in your bathroom you can use tiles that are less expensive for the larger part of the project and accent it with more expensive, decorative pieces.

Refinish instead of replacing.  There are DIY refinishing kits for your tub and shower.

There are ways to save on granite for your countertops.  Find a color that is less popular.  Your neutral colors tend to be more expensive and you can also ask to see their granite slabs with imperfections.  There are ways to make it work for you.

You can replace your hardware and accessories with upcycled items.  A good place to look is Etsy.

Freshen up your bathroom with new paint, caulk, and grout.  It really does give your bathroom an updated, clean feel.
Tips for small spaces:
Installing a corner sink or a wall-mounted faucet can be a great way to save space.

Open shelves or recessed practical elements will open up the room.

You can extend your countertop over the back of your toilet or place floating shelves above the toilet can also be a good use of that space.

Place your towel bar on the back of the door.

Use large scale patterns.  Wide stripes, for instance, can draw the eye giving the illusion of a larger space.

Adding mirrors and extra lighting enhances your room making it feel a little bigger.
There are many different color palettes that work well in a bathroom.  Black and white is always a classic option, or you can opt for shades of gray with added pops of color.  If you are into more of a coastal look, add shades of blue and green with white and raw wood accents.   For those looking for a more dramatic look, add a red accent wall.   Or take this opportunity to try a fun wallpaper! 
Creating a space you will love and that is functional are always key when thinking about the design of your bathroom.  Also, keep in mind to allow natural light in if it is possible.  Adding a real plant can also make your space more pleasant.  Have fun making it your own personal spa retreat, that way you can look forward to coming home and relaxing.  Having some scented candles, luxurious towels, and a plush robe to wrap up in after a nice relaxing bath will make you feel like you are staying in a resort.  Why not make that feeling available to you and your guests all the time?
Remember that this is your space and Your Style of Living, so choose colors, furniture, and accents that you love and make you feel good.  And if you feel overwhelmed by this project, give us a call at Trade Mark Interiors.  We will be more than happy to help!