Trade Mark Interior Design in Sarasota is about "Your Style of Living." Our goal is to create functional and stylish interiors that reflect your style and personality, while providing our experience and expertise. We specialize in new construction, renovations, clubhouses, and office space for both residential and commercial projects. Now that you know what Trade Mark Interiors is all about, it's time to meet the team!

Tracee Murphy
Favorite style: Classic with a relaxed and sophisticated feeling. 
Our CEO is Tracee, who is a licensed interior designer in Florida who has been designing for over 25 years. Her degrees in both Interior Design and Psychology put her in a unique position to understand client needs, as well as manage multiple perspectives on a project. If you and your partner can't decide on a layout or color palette, Tracee is here to assist! Her unique perspective also helps with creating interiors that have a positive impact on your mood. 
Tracee gets a lot of her inspiration from traveling the world, the beach, and nature. Her favorite thing about interior design is helping people create a beautiful space that is completely different from any other. She also loves that she is creating a dream team here at Trade Mark Interiors!
Fun Facts:
Favorite quote about design? "Fill your home with things you love, and you'll always have a beautiful home." 

Favorite color? Red. 

Celebrity crush? Hugh Jackman.

Favorite place to vacation? Beach.

Go-to cocktail? Tito's Gimlet. 
Kristin Tolbert
Favorite style: Modern, refined comfort with hints of natural elements. 
Kristin is our Design Director at Trade Mark Interiors. After receiving her Masters in 2015, she relocated to Southwest Florida. She has wanted to be a designer for as long as she can remember. Kristin loves getting to live out her dream everyday and getting to know all of Trade Mark Interior Design's clients on a personal level and assisting them in bringing their vision to life.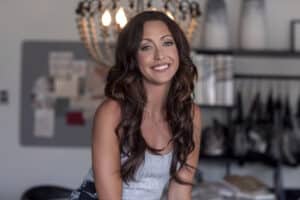 She loves working at TMI because of the creative atmosphere. Kristin finds design inspiration from traveling the world and wants to travel more.
Fun Facts:
Favorite quote about design? – "Talent is good. Practice is better. Passion is best." – Frank Lloyd Wright

Favorite color? Blue.

What would your at-bat song be? I Wanna Dance With Somebody by Whitney Houston. 

Favorite weekend activity? Lounging at the beach or spending time with friends.

Go-to cocktail/drink?  – Tito's and Soda with a lime. 
Casey Liptak
The newest addition to our team as Interior Designer is Casey! She has recently relocated to Sarasota from Cleveland and is enjoying exploring her new city. She has been professionally designing for three years on the hospitality side and is excited to bring her skill set to residential design. She is loving working at TMI because of the people. Casey's favorite part of being an interior designer is everyday is different and being able to bring creativity into her everyday life.
Fun Facts:
Favorite quote about design? "Good design is like a refrigerator – when it works, no one notices, but when it doesn't it sure stinks."
Favorite song? Valerie – Amy Winehouse
Favorite color? Pink.
Favorite snack? Charceuterie board.
Go-to drink/cocktail? Margarita.

Brandy Smith
With a passion for design, Brandy immerses herself in the behind-the-scenes work and planning that helps to pull together our award-winning designs. Brandy has over 10 years of experience overseeing project management and planning. She keeps all the details of our projects on track and ensures the team functions cohesively. 
A native of Sarasota, Brandy is excited to be back in her hometown after a decade in Washington DC, and in 2020, she was selected for the Business Observer's list of 40 under 40 honorees! Brandy recently married her husband Daniel, and when she is not in the office, she is exploring new parks with her energetic chocolate lab, Luca. 
Trade Mark Interiors specializes in commercial and residential interior design in Sarasota and the surrounding area. Take a look around our website to view past projects and see our design packages. Give us a call if you have any questions or would like to schedule a consultation. We would love to hear from you!