Can you believe we are talking about 2022 interior design trends? Neither can we! Our team is so excited to share upcoming trends and tips for how you can incorporate them into your space.
After some exciting trips to High Point Market and Chicago Luxe, the prevailing sentiment was "what's trending is whatever is in stock!" which was said jokingly but there is definitely some truth to this statement. That may be part of the reason why repurposed furniture and vintage pieces are trending, as well as minimalism and multifunctional rooms. 
Interior Design Trends
Repurposed furniture

: Spruce up your space with a subtle retro or vintage vibe. Using artisanal or vintage furniture is also a great way to not have to worry about what's in stock!

Nature

: Bring greenery into your home with a seamless transition from indoor to outdoor living spaces. 

Multifunctional spaces

: Get the most use out of your space with innovative room dividing techniques and creative space planning. 

No unused rooms

: Gone are the days of only using a room one or two times a year for entertaining. Homeowners now want to use every room in their home to its fullest potential. 

Zen interiors

: We spent a lot more time at home this past year and a half, so making your home a comfortable and relaxing space is even more important to homeowners. 

Minimalism

: The minimalism movement seems to get more and more popular, and that is also true in interior design. When done the right way, it can free up your space and lead to less clutter. 

Light floors to accentuate natural light

: Light colored floors can bounce natural light nicely around a space. It's also a good base for a minimalistic look.

Painted doors and trims

: Really add a fun pop of color to your space with a brightly colored door or trim.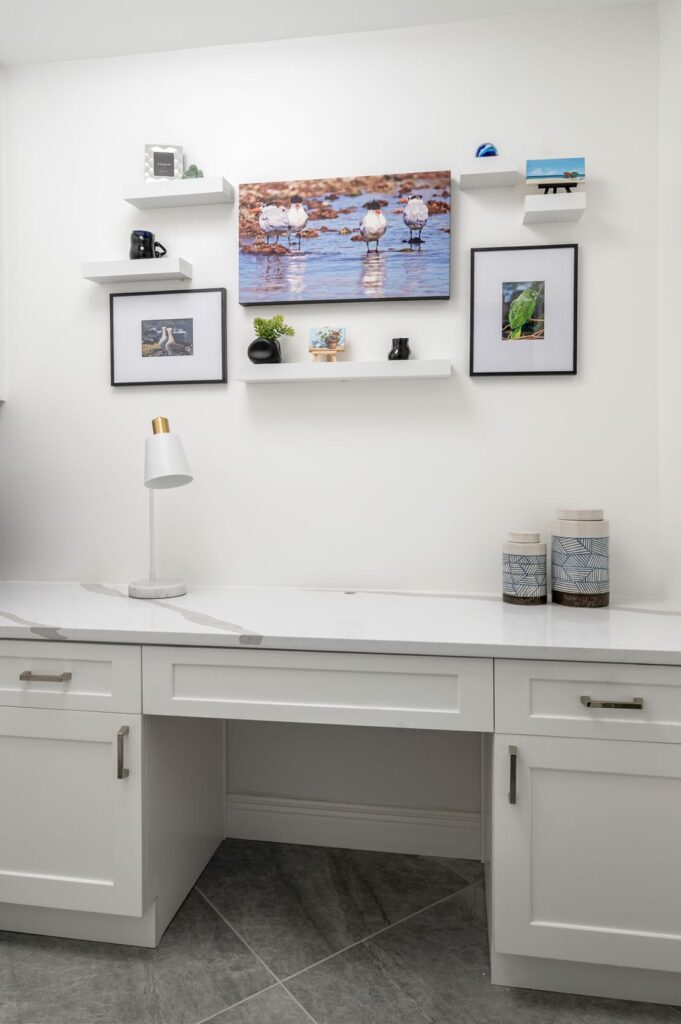 Home Office Trends
This past year caused many companies to scramble as employees needed to work from home. Consequently, a lot of people realized they don't love their homes, and particularly their home offices. Designing a home office that is both functional and visually appealing is an even more important consideration going forward. Even if you're back in the office, just in case you do have to work from home again you want to make sure you have the right space. Here are some home office tips for 2022:
Location

: Do you need a quiet spot to work or do you like having some distractions or background noise? If you don't have enough space for a home office, try a guest room or a dedicated corner in the living room. 

Furniture

: Think about what you need and how you want the office to function before investing in furniture. Make sure you get a comfy chair!

Add color

: If you need a high energy space consider using orange. If you need a space where you can focus, try neutrals. Calming shades like green or blue can make for a more relaxed, less stressful space.

Accessorize

: Position your desk so you are looking at the room or a window. Keep accessories to a minimum to avoid distractions. Wall art, plants, and rugs can all be great accessories. 

Lighting

: Try to utilize natural light as much as possible. Overhead lighting and floor lamps are also good options.

Storage

: Utilize horizontal and vertical storage options to make the most of your space. Hide cords and other eyesores to keep your space neat and organized.

Color Trends
We talk a lot about the importance of color psychology in interior design. Color plays an integral role in making a space relaxing or energizing. If you walk into a room and feel overwhelmed or uncomfortable, it may be because of clashing colors or misuse of color. Here are some color trends for 2022:
Neutral bases

: Subtle colors like beige, white, taupe, and grey create the perfect base for a calm and relaxed environment. 

Shades of green

: This is a great color to add on top of your neutral base for an earthy feel. 

Black accents

: Adding in black accents to a space can up the elegance and sophistication level. 

White walls

: If you have fun accents and furniture pieces, a white wall can be the perfect backdrop. 
These are just some interior design trends for 2022 that we are expecting to see. While everyone has their own tastes and preferences, these trends can be a good jumping off point when you're thinking about building or renovating your home in Sarasota. Give us a call to schedule your consultation!