One of our first steps in the design process with our clients is to curate a mood board and a design style. Designing a design style is important because it allows not only us, as designers, to envision and pull the design together seamlessly but also to have an open conversation with our clients about many specific details of what the vision entails.

To begin this process, we provide a questionnaire to our clients. This questionnaire allows us to really understand them as homeowners, their lifestyle, and the importance of certain aspects they hope to have within their home. Once we have this information, it's time to begin the mood board building process.

Next we start rounding up inspiration. We ask our clients to find design inspiration that truly speaks to them. We often utilize websites such as Pinterest and Houzz.

The Color Story

Once we have their questions and their inspiration, we design what we at Trade Mark Interiors call a Color Story. Our color story doesn't just pull design inspiration from interior projects, it also incorporates other inspiration that can be found in fashion, jewelry, food, nature, and more.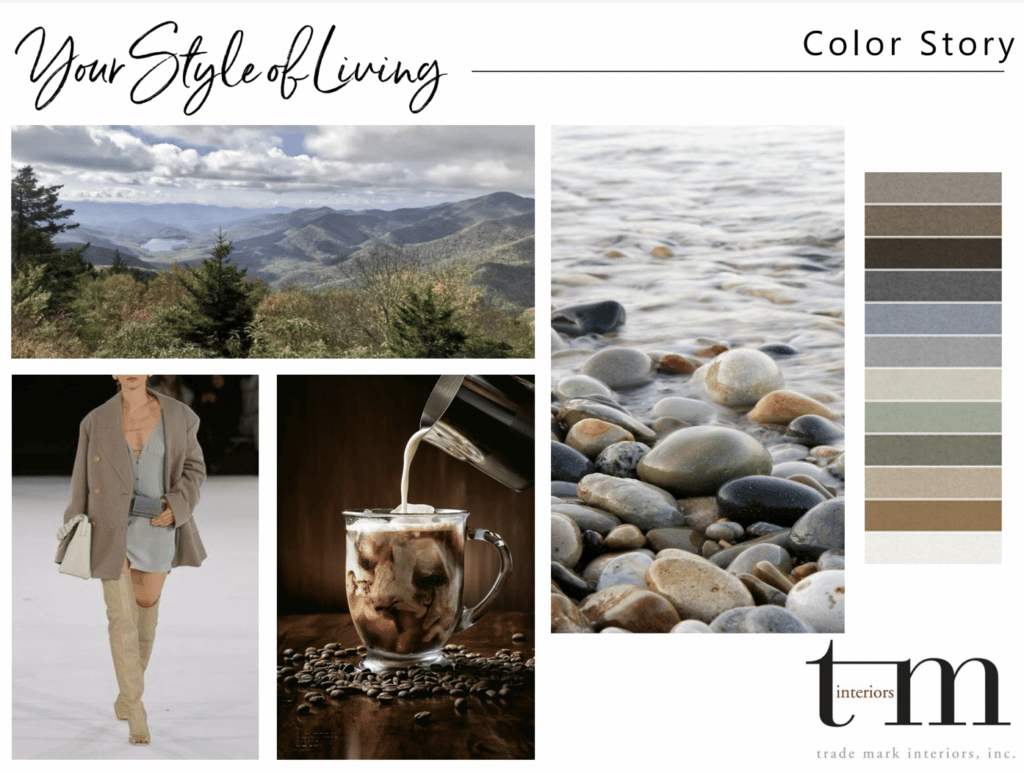 After we have designed the color story we then incorporate the Fit and Finish inspiration. This is going to showcase items that will be used to build the home. When we present this to our clients we get to talk through the details of each photo to really talk through elements that they love and feel fit the design. This is the time to talk through cabinets, hardware finishes, plumbing designs, etc.
Lastly, we get to talk about the furnishings. When designing a whole house project this can be an extensive list to go over, but, it's FUN! This is where we really get to dive in deep on color selection, texture applications, artwork, and more.

The moodboard & Design Style process is truly how we get to really personalize this experience for our clients. Once approved this will be our main working document throughout the entire design process.

Are you interested in beginning an interior design project of your own? Contact us for a discovery call today to see how Trade Mark Interiors and our design team can help. You can also follow along with us on Facebook, Instagram, Pinterest, and YouTube as we dive deeper in to the mood board & design process this upcoming month.